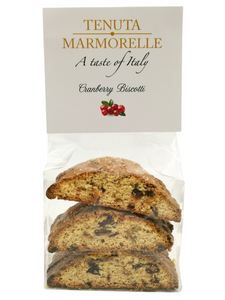 They are perfect for a treat with a coffee and make a perfect stocking filler.

These cranberry Biscotti are perfect for getting into the Christmas Spirit and are lovingly made in Tuscany.
Cranberry cantucci
Great flavour sweet but not too sweet. Just yummy
Hi Ishbel,
Thank you for your kind review. We are delighted that you enjoyed our Cantucci, they are as you say Yummy!
Thanks again,
Mike and the Tenuta Marmorelle Team
Happy coffee drinker.
An excellent addition to a Large Expresso that I have every morning. Regards Jan.
Hi Jan,
Thank you for your kind review. The large cantucci are very good! They are made by a small family business not far from Florence, there many focus is quality.
Thanks once again,
Mike and the Tenuta Marmorelle Team