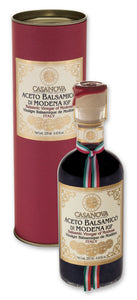 This 10 year Balsamic Vinegar is perfect for a gift or a foodie!
Made in the traditional battery method the Balsamic Vinegar is moved each year from one barrel to another.  It is 100% natural, has a rich density and amazing flavour.
It also comes in this stunning red gifting tube.