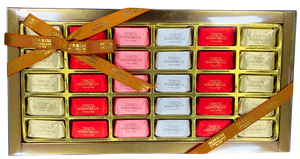 The Gianduiotto or Giandujotto is a typical Italian chocolate from Piedmonte immediately recognizable by its famous upturned boat shape.  
This box contains a selection of different Gianduiotti: Classic Hazelnut, Dark, Ruby and White varieties.
The Gianduiotto chocolate is made with a chocolate and hazelnut paste, the gianduja paste, and is wrapped in aluminium foil to improve its preservation.
These Artisian handmade chocolates are exquisite!