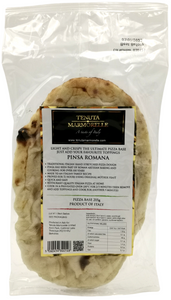 These Pizza Bases are fantastic!
They can be stored in cool, dry place, with no need for refrigeration, and have a long shelf life.  
The hand stretched Pinsa Pizza Bases are taking the world by storm.
The most difficult part of making a pizza is getting the base right. We have done this for you, all you have to do is to be creative and add your favourite toppings.
Serves 1 or 2 people