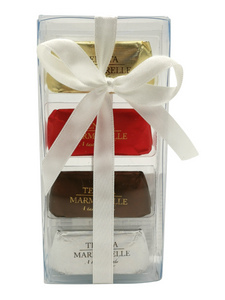 Artisan handmade Mixed Gianduiotti presented in a clear box.
Flavours included: Dark Chocolate, Classic, Coffee and White Chocolate
The Gianduiotto or Giandujotto are typical Italian chocolates from Piedmonte. They are immediately recognizable by their famous upturned boat shape and foil wrapper. Made with a chocolate and hazelnut paste.
Simply delicious!
Gluten free
Contains nuts