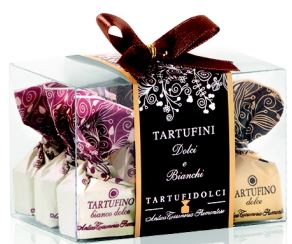 These truffle chocolates are made in the heart of Piemonte.  They make the perfect gift for a chocolate lover.  They are made with the PDO Hazelnuts from Piemonte and melt in your mouth.
There are two flavours Gianduja which is a sweet chocolate containing about 30% hazelnut paste.  You also get the Extra Dark Truffles as well which pack so much flavour.
The truffles are naturally GLUTEN FREE.
Best before date is 30/09/2023