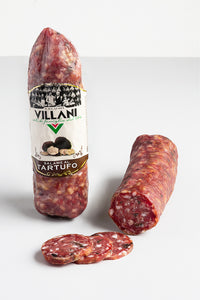 Choice pure pork with added truffle pieces A unique and smooth for truffle enthusiasts.
This product is Gluten and Dairy Free
Excellent service
Ordered the Villani Truffle salami and it is delicious 😋 Service was very efficient and delivery was swift. Highly recommended
Hi JKC,
Thank you for your very kind review. We are selling much more of our Villani Charcutier products online and getting a very positive response. They are a fantastic picnic, dinner party or garden party option.
Thanks once again,
Mike and The Tenuta Marmorelle Team
Lucky to find You.
How lovely to find a small whole Salami, very important to me as I am now on my own after losing my Wonderful Husband Alan last year.
Hi Jan,
Thank you for your kind review. Not enough people know about our mini salami and how good they are, thank you once again for highlighting them
Mike and The Tenuta Marmorelle Team.