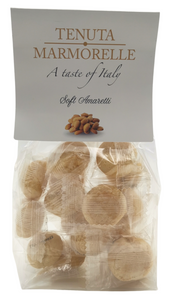 These are truly amazing, the hint of almond throughout is a Mediterranean delight.

One is never enough!!  Spoil yourself...  
Naturally Gluten Free (but produced in an environment where gluten may be present).
Moreish!
Well packaged so arrived in tact. These are delicious, subtle flavour so not artificial tasting. They are perfect with my latte so not sure how long they'll last!
Hi Hazel,
Thank you for your kind review. The Soft Amaretti are very good and as you say perfect with a latte.
We are delighted you enjoyed them!
Thanks once again,
Mike and The Tenuta Marmorelle Team