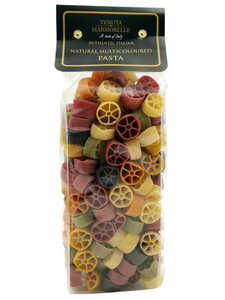 NEW!! Multicoloured Bow Pasta made with spinach for the green, tomato for the red, beetroot for the purple, paprika for the orange, tumeric for the yellow, squid ink for the black and normal white pasta. Traditionally made in small batches slow dried.
An Excellent Quality Pasta in Amazing Colours!
Quality pasta!
Quality pasta that is easy to cook and maintains it's shape well. Great al dente Vibrant colours that go well with a creamy sauce.
Hi Jan,
Thank you for your kind review. I am delighted that you enjoyed our multi-coloured pasta. This is a relatively new range which we have been stocking and we are very happy that you liked it.
Thanks once again,
Mike and The Tenuta Marmorelle Team