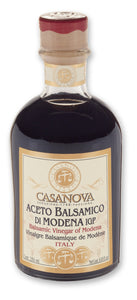 With this Casanova Balsamic Vinegar you are starting to get an added depth of flavour compared to the 6 year old balsamic as this has been aged in wooden barrels for at least 6 years. The barrels are left open at the top to allow part of the balsamic to evaporate through the year giving a thicker consistency. Each year 30% of the Balsamic Vinegar is moved into a smaller barrel where it takes on the flavour of the wood.
The four year old Balsamic Vinegar can still be used for dipping and has a dark brown colour. It is also ideal on mixed salads, raw vegetables, meat and steamed fish.
All of our Balsamic Vinegars are made by a family that has been producing Balsamic Vinegar in the traditional way in Modena for 4 generations. No caramel or colouring agents are used within the process and the grape must is natural and not concentrated.
1 star Great Taste Award winner in 2020.