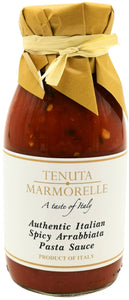 If you love your pasta to have a bit of a kick you will love our authentic Arrabbiata (angry) sauce. The idea behind the sauce isn't to just give you a blast of heat but rather to let you enjoy the taste of the fresh tomatoes, while the heat of the chillis start to build.
This sauce works extremely well with fish dishes such as Tagliatelle with Prawns & Courgettes or mussels.
Our Pasta Sauces are Naturally Gluten Free, they are made in a traditional way using the best ingredients where no gluten is present 
Ingredients:                            
Tomato Pulp and sieved cherry tomatoes 93%, extra virgin olive oil, chilli 1% garlic, sea salt, pepper, parsley, acidifier; citric acid.
NEW
Tasty!
Such a tasty sauce, quick and easy to use. Good to have ready in the cupboard. Flavoursome with a slight kick. Try it.
Perfect
I used this sauce to make lasagne with gluten free lasagne sheets and it was just perfect. It added a bit of oomph to the flavour - transporting us from a dreich ( good Scottish word for cold, wet and windy) day at home to the sunny climes of Italy! Great size for 2 people. Can't praise ALL the sauces and gluten free pasta enough. I'll be back for more!
Hi Helen,
Thank you for your kind review. Our Gluten Free Pasta is becoming an industry bench mark which other suppliers are trying to equal. As you know we have more shapes than any other supplier. It is very difficult to detect that our pasta is actually a gluten free pasta! As for the pasta sauces they are exceptional and naturally gluten free. Can it get any better!
Thanks once again,
Mike and The Tenuta Marmorelle Team