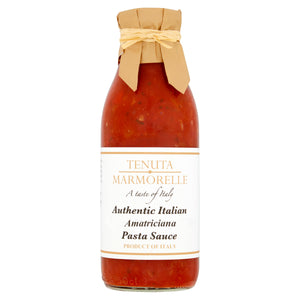 Being from an Italian family we have always hesitated to introduce pasta sauce in a jar, until we had the perfect recipe. These are authentic Italian pasta sauces which will take you back to the best meal you could have in Italy.
Our Smoked Pancetta Pasta sauce, known as Amatriciana in Italian, is traditional to the Rome area, the sauce contains real pieces of Guanciale, a type of Italian bacon.
Our Pasta Sauces are Naturally Gluten Free being made with all gluten free ingredients and in a production plant where no ingredients using gluten are used.
Ingredients:                            
Tomato Pulp and sieved cherry tomatoes 74%, onions, pork 4.5% (pork, salt, dextrose, sugar, lactose, natural flavours, antioxidant: ascorbic acid, preservative potassium nitrate, sodium nitrate), extra virgin olive oil, white wine, sea salt, oregano, pepper, acidifier; citric acid.
| | |
| --- | --- |
| Typical Nutritional Information | Per 100g |
| Energy KJ | 463 |
| Energy kcal | 111 |
| Total Fat | 7.0g |
| Of which saturates | 2.2g |
| Carbohydrate | 8.7g |
| Of which Sugars | 2.0g |
| Protein | 2.5g |
| Salt | 0.6g |
Simply the best
Purchased as Christmas present f it's anything like the rest of Tenuta sauces it will be delicious
Hi Susan,
Thank you so much for your kind review. Our Pasta sauces are pretty amazing, they are produced by a small family business in the same way the would be produced at home, only the best quality ingredients are used.
What a great idea for Christmas presents, I promise they will not disappoint!
Thanks once again,
Mike and The Tenuta Marmorelle Team
Pasta sauces are extremely good.
Hi Jackie,
Thank you very much for taking the time to write a review, we really appreciate it.
We genuinely believe our sauces are delicious and it's great to have confirmation from reviews like yours! We'll be adding more sauces soon...
Thanks once again,
Vincent
Tasty delicious total comfort food
Hi Lindsay,
Thank you very for taking the time to write a review, much appreciated!
We think our Pasta Sauces are great but it is wonderful to hear you agree... the pieces of actual Pancetta make it a delicious sauce and naturally gluten free too!
Enjoy and stay safe!!
Pasta and sauces galore!
Once the lockdown set in we looked for a way to treat ourselves and found Tenuta Marmorelle online... woweee what a delicious experience!! We've now enjoyed two dishes with their authentic and deeply flavoursome sauces and have enough in our store cupboard to last for a few more weeks ... the best investment we've made in a long time!!! Worth every penny! Highly recommend!
Hi Susan,
Thank you very much for taking the time to review, we really appreciate it.
Lovely to hear such amazing praise for our products and the Pasta Sauces are truly amazing! We worked very hard to have a selection of Pasta Sauces we were happy to put our name on and match our high quality pasta!
Amatriciana Pasta Sauce
Another quality sauce, great depth of flavour. Lovely.
V J Hull,
Thank you for your review.
The depth and flavour is a result of the quality ingredients which are used in the traditional recipe of the sauce.
Many thanks once again!