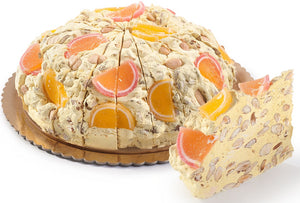 A soft slice of wonderful Italian Limoncello flavoured nougat.
Naturally gluten free
Beautiful
This is, without any doubt the most amazing nougat that I have ever tasted. Super gorgeous.
Hi Barbara,
Thank you for taking the time to write a review. Our nougat is becoming very popular both with our wholesale and retail customers. Our producer is a small family business with quality being the number one criteria. You can certainly taste the difference!
Thanks once again,
Mike and The Tenuta Marmorelle Team
Nougat
A birthday treat. Delicious!
Hi Mrs S Clark,
Thank you for your kind review. I am delighted that your son enjoyed our Nougat it is a quality Nougat.
Thanks once again,
Mike and the Tenuta Marmorelle Team