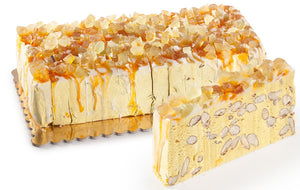 A soft slice of wonderful Italian Limoncello flavoured nougat.
Naturally gluten free
A Taste of Italy.
How wonderful that we are able to enjoy a Slice of Italy in our own Homes
You might be under the impression that the Lemoncello might be a little a bit on the sweet side but that is not the case, just enjoy it. Jan.
that is not the case
Hi Jan,
Thank you very much for taking the time to write a review and it's great that you enjoyed the Limoncello Nougat....it is very 'moorish' and a delicious treat!!!
Look forward to hearing from you again soon,
Thanks again
Vincent