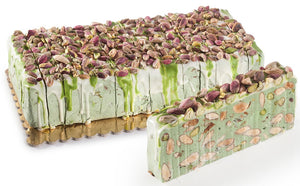 A soft slice of wonderful Italian Pistachio flavoured nougat.
Naturally gluten free
Average
Definitely not the best Italian nougat I've had. Okay just average
Hi Jenny,
Thank you for taking the time to write a review. I am very sorry that you found our pistachio nougat average. Our nougat products have been reviewed many time and this is the first time that they have been described as average.
Once again apologies if this product did not live up to your expectation.
Thanks once again,
Mike and The Tenuta Marmorelle Team
pistachio nougat
Delivered promptly pre-xmas. nougat was fabulous. thanks
Hi Catherine,
Thank you for your comments, getting deliveries out before Christmas was challenging but we managed to get everything out in time. Really glad that you enjoyed the nougat.
Thanks once again,
Mike and the Tenuta Marmorelle Team