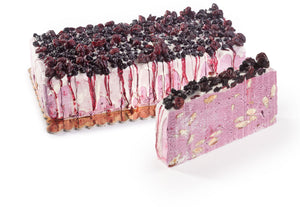 A delicious slice of Tenuta Marmorelle Wild Berry Nougat Slice 150g.  Delicious fruit flavoured nougat with a forest fruit topping.
Granted a 1 star Great Taste Award in 2017.
Gluten Free
A lovely treat
What a good idea to offer slices of Nougat. As I am now on my own since I lost my Wonderful Husband the size is great for me. A great taste and again goes down well.with a drink.
Hi Jan,
Thank you so much for your very kind reviews. So sorry to hear about your wonderful husband, I am sure he was an amazing person. I am delighted that you like the nougat it very good and is very popular.
Thanks again for using our store we really appreciate your custom and comments.
Mike and The Tenuta Marmorelle Team
Tantalise your tastebuds
A wonderful nut packed nougat with a lovely berry topping, well worth the price and a taste to savour. A word of warning, one piece is not enough.
Hi Nigel,
Thank you very much for taking the time to write a review and it is wonderful that you enjoyed the nougat so much!!
Look forward to hearing back from you again soon.
Thanks again,
Vincent