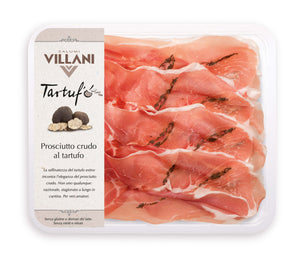 Made in the exact same way as a Parma Ham. The leg is cured & after 14 months it is deboned & a layer of truffles & a natural truffle paste is added. It is then closed & cured for a further 3 months giving a delicious delicate flavour.
This product is Gluten and Dairy Free
superb product So flavoursome and succulent
favoursome and succulent Wonderful product Will buy again very soon
Hi Jan
Thank you for taking the time to review our Villani meats. We have recently introduced our own range of meat selection packs which we hope you will try and enjoy too!
We appreciate your custom.
Best wishes
Jen and the Tenuta Marmorelle Team.
Delicious!
Absolutely delicious. Will definitely be ordering more!
Hi D Paris,
Thank you for taking the time to write a review. Our charcuterie products are really very good. They are made by a family business using only the best products and producing a range of excellent products.
Thanks once again,
Mike and the Tenuta Marmorelle Team